G3WOS's Trip to Sydney - Dec. 1997

In the week before Christmas 1997 I spent a fantastic week in Sydney Australia. It was tremendously hot but I had a real great time. One evening a had an interesting meal in the rotating restaurant on the top of the Sydney tower (the tallest builing from the left of the photograph above) - the Kangaroo was quite tasty; the Emu was so-so, but the Crocodile was definitely an acquired taste!
While I was there I spent a terrific evening with Mike, VK2FLR, who took me to a local bar in downtown Sydney and later, with his wife, took me along to an Italian restaurant. Of course, afterwards, we listened to the 6m exotica heard in Eastern Australia in the last cycle! 6m guys are the SAME the world over!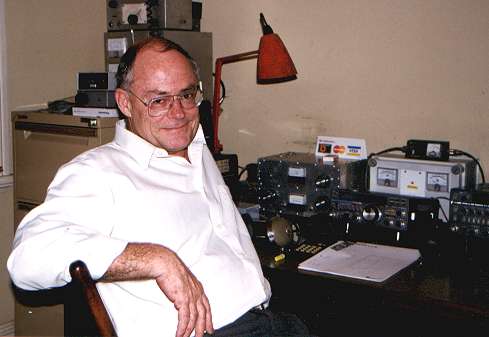 Mike, VK2FLR
Mike's 6m Amplifier - I LOVE the window!

Mike's down-cycle 3-element
(forget the stack, they're 2m EME beams!)
Mike's e-mail address is galuff@ozemail.com.au
If you are ever in Sydney, give him a call!