G3WOS's 2011 6M hog roast BBQ
Update: 4th August 2011
After the great success of the previous BBQs, I am thinking of holding a 6m BBQ (if there is sufficient interest) on Saturday 6th August 2011 in Farnborough, Hampshire UK - so make a note in your diary!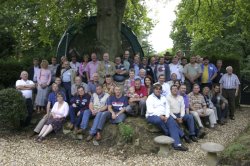 Take a look at the 2005 BBQ web site. As we have always had a good number of non-UK 6m hams attend, I am sending this now so that you can plan your summer around the event by visiting the UK!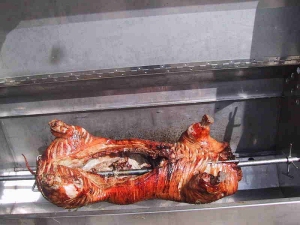 There will be plenty of food and drink, lots of 6m guys to talk to and argue with and XYLs are positively encouraged! I hope that we will see an even better turn out of non-UK 6m enthusiasts. For those wanting to stay over on Friday night, we will try and get everyone into the same hotel (The Falcon) and organise another great 6m dinner for the Friday evening.

The cost of the BBQ is not yet known but will be around 35 UK Pounds and will need to be paid in advance of the event.

---
Friday night 6M DXers' dinner
If you have attended before, you will know that we hold a dinner on the Friday evening starting at 19:00. The restaurant is next door to the hotel so there are no driving problems to worry about.
Please let me know as soon as you are able if you are staying at the Falcon Hotel and PLEASE let me know if wish to attend the Friday night 6M DXers dinner as I need to make a reservation at the restaurant and need to know the number of people attending.



---
UKSMG 2011 AGM
This is some advance notice for this year's AGM which has a change of venue. In order to offer a rare chance to several of our overseas members to attend the AGM this year, it will take place in advance of the BBQ held by Chris G3WOS in August. The location will be the Gurkha Palace restaurant in Farnborough on Saturday 6th August starting at 10 am.
For those members already attending the BBQ and staying at the Falcon Hotel, the restaurant is just a few yards from the hotel. More detail will be available closer to the date and, of course, in the next issue of Six News.
Trev G3ZYY

---
The Proposed Talks Schedule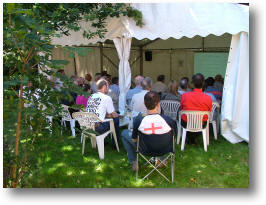 Time
Event
10:

00

BBQ opens

11:30 to 12:15

Stacking and baying of 'quiet' antennas.

Justin, G0KSC

12:30 to 12:45
Work more 6m DX with a CW Skimmer and an SDR receiver.

Max, DK1MAX

13:00 to 13:45
6M DXing from suburbia: Coping with noise & neighbours

Chris. G3WOS

14:00 to 14:45
The challenges and fun of 5J0BV on San Andreas: 2008, 2009 and 2010!

Dennis, K7BV

15:00

BBQ is served!

Whenever!


BBQ ends

73 Chris G3WOS