T

he Amplifier Power Supply

Part B - The Transformer Side

The second power supply circuit diagram shows the HT and LT transformers and associated circuitry including the HT capacitor board and the HT Divider / monitor board.

A couple of bits are different to that shown in G3SEK's control card design:
The HT divider is different. As I was limited in physical space I used two 10M ohm @ 7.5kv resistors rather than 16 1M ohm resistors!

The 240v blower is driven from a secondary winding on the HT transformer so that the amplifier could still be used with 120v mains (line) supply.
Click on the component to see a photograph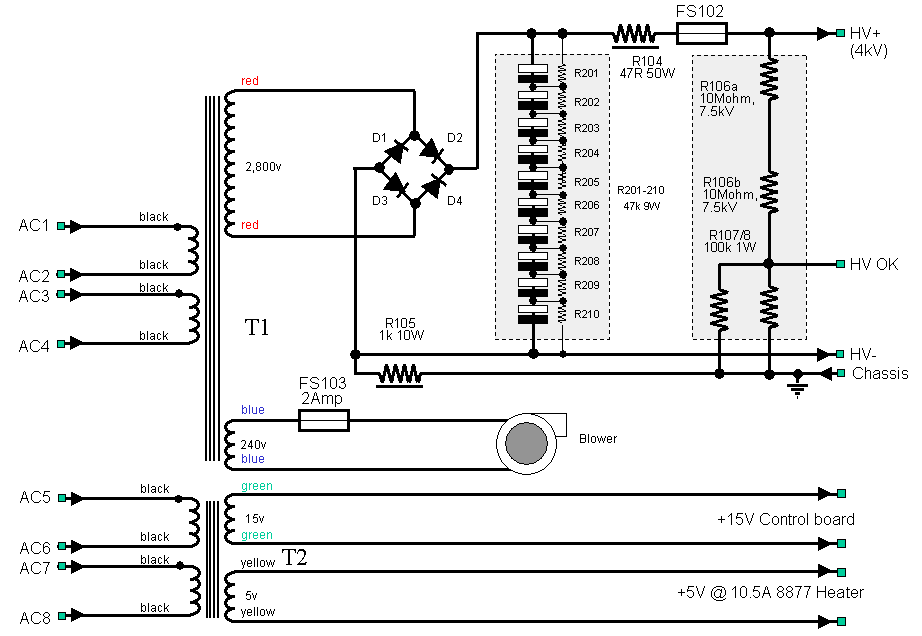 The Power Supply, transformer Side
The key parts of the above circuit are:
The HT and LT transformers

The 8877 cooling blower

The HT bridge rectifier and capacitor bank

The HT monitoring board

The R104 HT surge current limiting resistor
Parts List
Power Supplies - Transformer Side
Supplier
Part
Number
QTY

Description

RS
R201-210
199-5836
10
47k, 9watt resistor, wirewound, vitreous enamel
RS
C1-10
381-9374
10
ALS30, 450Vdc, 220uF aluminium electrolytic, screw terminal
RS
R106a/b
296-0572
2
10M ohm Resistor, high voltage, 7.5kv
RS
R107/8
214-1406
2
Resistor, metal oxide film, power, 1W, 100k
Heritage
T1
1
HT transformer, 2,800v, 240v @ 120mA secondaries. Made to specification.
Heritage
T2
1
LT transformer, 15v and 5v @ 10A secondaries. Made to specification.
Silicon Alley
D1-4
HV14-1
4
EHT rectifier sticks
RS
408-397
4
Fuseholder, panel mount, low profile, 25x6.3mm, screw cap, tag connection, 13A
RS
R104
252-6431
1
Resistor, 75W, 47R
RS
R105
159-966
1
Resistor, metal cased, power, 10W, 1k, 5%
RS
223-089
1
Blower, single inlet, 240Vac, 110CFM
RS
581-307
1
Blower, accessories, filter assembly, 110-165CFM
RS
211-0941
1
Connector, power, plug, shrouded, 4 way (for blower supply)
RS
211-0957
1
Connector, power, socket, shrouded, 4 way (for blower supply)
RS
213-7564
2
Fuseholder, open base, 1.25in
RS
18-9539
1
Fuse, anti surge, Siba 70-059-61, 2A