T

he Amplifier Power Supply

Part C - The Control Board

The third power supply circuit diagram shows the control board and associated circuitry. Couple of changes:
An extra bit of circuitry (not shown) is the use of the ancillary relay outputs (NO, Com) to switch the +12v antenna change over relay - an 18 ohm 3watt resistor is placed between the relay and the unregulated +19v output on the control board.


The +12v, 8cm fan and the four meter lights are driven from the +12v HT CTRL output of the control card - i.e. the fan and the lights come on after the 3-minute delay.
Click on the component to see a photograph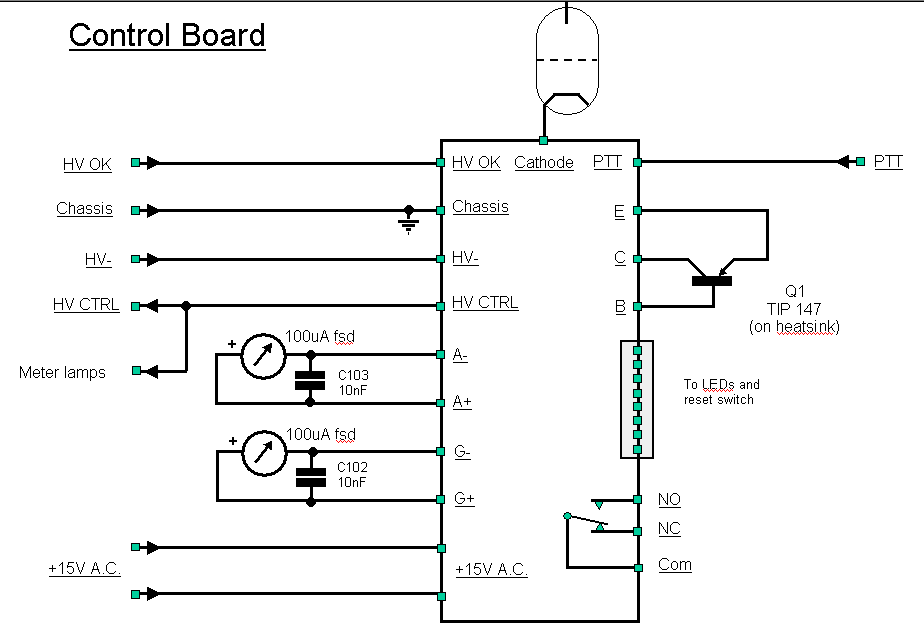 Control Board Circuitry
The key parts of the above circuit are:
Parts List

Controller board
Supplier
Part
Number
QTY

Description

Downeast
TRISUP
1
Triode Power Supply Control kit
RS
336-747
1
Switch, pushbutton, panel mount, N/O, black
RS
213-4975
2
LED, indicator, c/w flat top, waterproof, NPB, IP64, fresnel lens, red
RS
213-4981
1
LED, indicator, c/w flat top, waterproof, NPB, IP64, fresnel lens, green
RS
213-4997
1
LED, indicator, c/w flat top, waterproof, NPB, IP64, fresnel lens, amber
Farnell
152-201

1

Jack socket 3.5Mmm panel mounting (TX / RX lead to transceiver)
CPC
PM11119
2
Monacor moving coil meter - 100microAmp
CPC
PM11191
4
Monacor meter back lights
Overclockers
Papst 8412
1
NGL super quiet fan (PSU section)
RS
214-2522
1
18 ohm 3w resistor, metal oxide film