C

oming Together - Power Supply!

Here are some photos taken while assembling the power supply unit...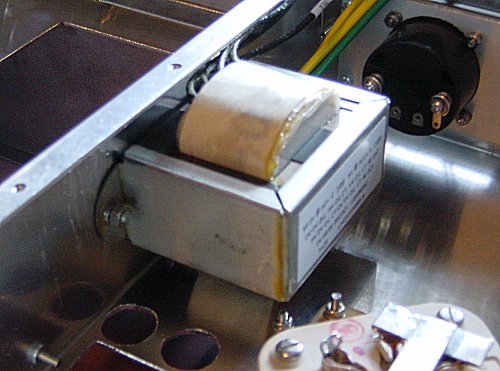 The +5v filament and +15v auxiliary transformer
fits nicely on the side wall!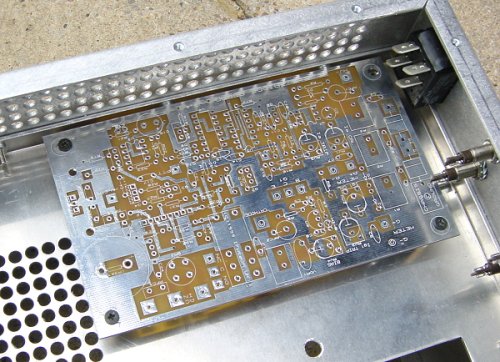 The Control Board
This the G3SEK control board, unpopulated, but mounted in its final position. The height of the psu floor (50mm) was determined by the overall height of the card with its components. The board is mount on four 10mm x m3 studs.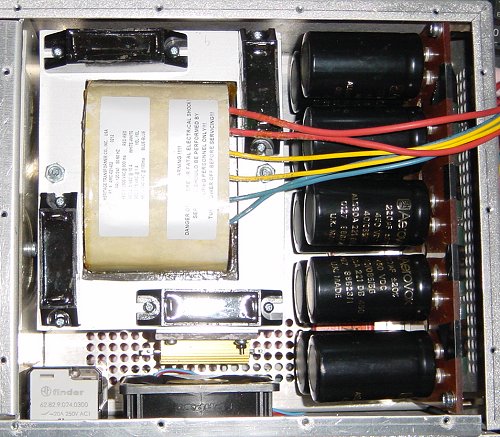 The Power Supply Compartment: everything fits!
The HT transformer is mounted at the top right-hand corner next to the HT capacitor board ion the right with ten 220 microfarad capacitors. The cooling fan can be seen at the bottom next to the soft-start relay on bottom left-hand side. The four HT rectifiers are mounted on a thick aluminium ring that fits on top of the transformer and held in place by the same two 70mm x M6 screws that hold the transformer in place.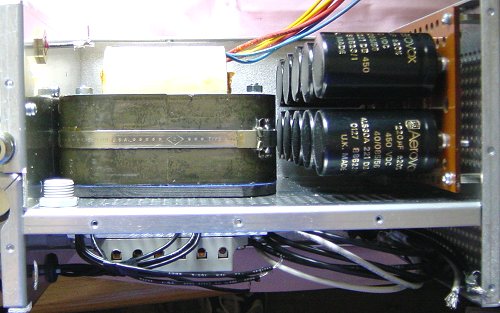 PSU back view
A side view of the transformer and the HT capacitor board. I only just managed to get the overall height down to 220mm so that it could fit in the pilot's case!
Mounted safety resistor
The 47 ohm safety resistor in series with the HT is mounted on a small insulated prbf board and fits immediately in front of the cooling fan and connects to the HT feed-through capacitor seen mounted on on the left.